Here at TickTickTrader, we provide our registered traders with one (1) free license key to use. If you prefer to use NinjaTrader, kindly contact us via email or live chat to request the license key.
Installation Guide:
If you do not have the Microsoft .NET Framework 4.8 installed on your PC please download and install it from here.

Click here to download and install NinjaTrader.

Firewall Software – NinjaTrader contacts its license server on application start up for license key validation. If you have a firewall, spyware, or other such software running on your PC, please ensure that you grant NinjaTrader permission to access the internet or you may receive an invalid or license expired message.

A pop-up window will appear to ask if you want free live market data, select No. You are registered to use the simulation version that comes with the free license key we have provided you with.

Once the download is completed, run the .exe file, and follow the on-screen instructions.

Start NinjaTrader Control Center, select the menu Help > click License Key and enter your license key
Connection Guide:
1. Start NinjaTrader. From the Control Center window, select the menu Connections then configure.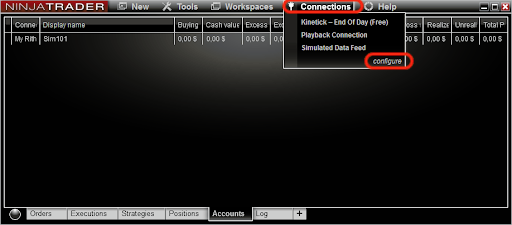 2. Under the list of Available connections, select Rithmic for NinjaTrader Brokerage. Press the add button from the "Configured" section.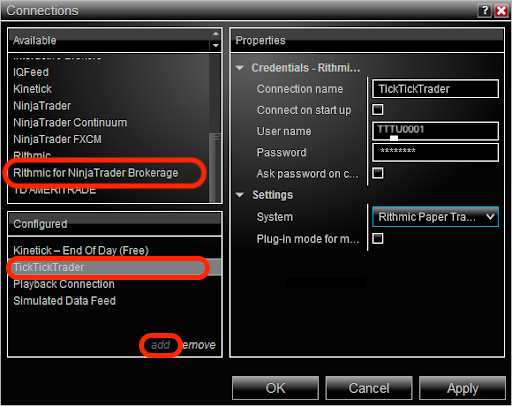 3. The Connection "Properties" section will be made available on the right side.
4. Enter the Rithmic credentials we provided you with:
Connection name: TickTickTrader

Optional: Select Connect on start up if you want to automatically connect to this connection when NinjaTrader is started.

User name: TTTUxxxx

Password: Rithmic password

Optional: Select Ask password on connect if you want to require manually entering the password when connecting (the Password field above will be disabled)

System: As recommended by Rithmic, if you are in the USA then select Chicago, if you are in Europe then select Europe, and if you are in Asia you will want to select Singapore.

Plug-in mode for market data: Do not check this.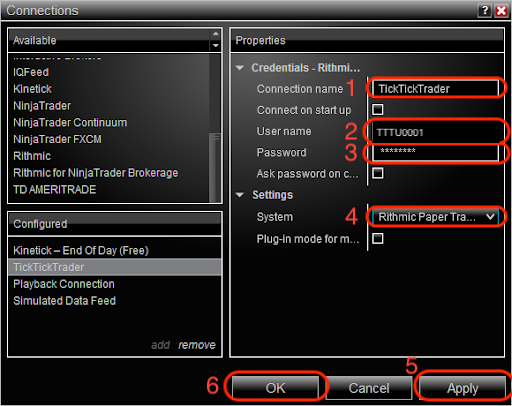 5. Click OK.
To connect to your account, go to the NinjaTrader Control Center window, select the menu "Connections" and then select your account "Connection name" you configured during step 4.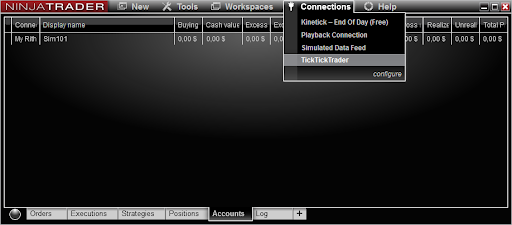 Once connected, you will see your connection highlighted in the connections menu per provider.
Connection Status
The connection status is reported in the connections menu per provider. There is also an aggregated connection status in the bottom left hand corner of the Control Center.
| | | |
| --- | --- | --- |
| | Connected | NinjaTrader is fully connected |
| | Connecting | NinjaTrader is attempting to connect |
| | Connection Lost (Price Server) | NinjaTrader has lost connection to the price server |
| | Connection Lost (Order Server) | NinjaTrader has lost connection to the order server |
| | Disconnected | NinjaTrader is not connected |